Mystery Pets Art Book on Kickstarter! Let's make an art book!
Hey everyone! I figure I'd give you guys a heads up that I've just launched a Kickstarter to raise funds so I can print an art book that includes a ton of the designs and images from the last few years. Here's the spiel or you can just go and look at the Kickstarter page: http://www.kickstarter.com/projects/1048372333/mystery-pets-art-book
Last Year for San Diego Comic Con I published a small paperback sized collection of my odd animal art as a book called Quirky.
Quirky was a 56-page perfect bound book that I funded myself and printed in full color. But I've already made so much more art that I've out grown this small collection and would like to tackle a more substantive tome of my work. While most of the art is complete and ready to be collected I still need a little help funding this bigger project.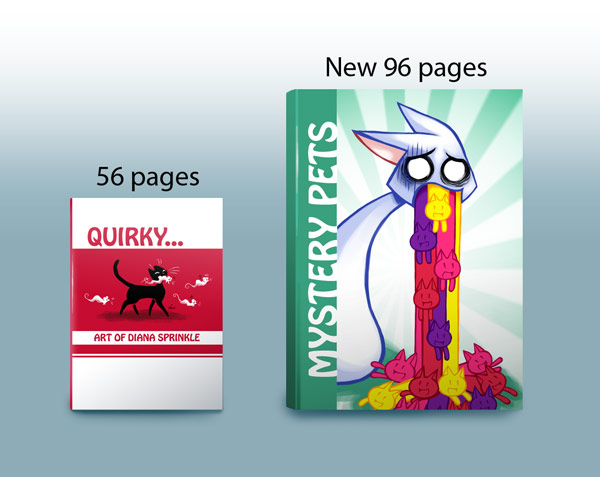 I want to print a 96-page graphic novel sized full color collection of my art. The book itself will be much bigger in size and page count than Quirky.
So I'm asking for a minimum of $1,200 all of which will be going into the cost of the print run of this new collection. Depending on how much you pledge you will receive rewards and items in many different combinations, all of which are fully explained on the Kickstarter site.
I'm going to include a lot of the art I couldn't fit into Quirky and as much of the new material I can. I'm planning to have the book made and produced a month before San Diego Comic Con. I will be shipping out copies to backers before the convention so the awesome people that help fund this project will be the first to get their hands on this book.
I hope you guys will be interested in helping me out.
Please go to the Kickstarter page for more info and to also see a video I made of me being silly and pitching the project. It's funny just how easy it is to use iMovie to make an embarrassing video of yourself flailing around.
Even if you can't pledge it would really help me out if you guys could share the link, favorite and reblog and retweet and facebook it or something. That would be super awesome. I'm really looking forward to getting this book made. Thanks!