Go to Kickstarter to read this update and watch the blooper reel: http://www.kickstarter.com/projects/1048372333/mystery-pets-art-book/posts/212530
Thanks so much everyone! We've zoomed past several goals! So it looks like the badges, wallpapers and random originals are all good to go! There are three more goals and then I'll have to think of some other fun stuff to throw into the mix. I think another sticker set will be one of them and maybe some more random originals to keep the packages interesting. =D
I'm working on the Badges and wallpapers right now. When I have a little free time I'll add some more goals to the chart encase things keep moving. Thanks again everyone!
Note: Just a reminder once this Kickstarter ends the actual price of the book will end up being around 30.00 plus shipping. Which is quite a bit more then the 20 and 25 dollar pledge levels you can snag a copy of the book for during this Kickstarter. Don't miss out: http://www.kickstarter.com/projects/1048372333/mystery-pets-art-book/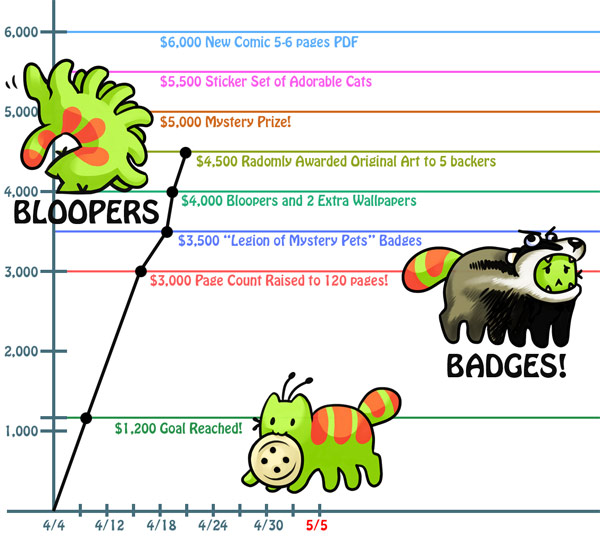 Goals still remaining:
At 5,000 I have a Mystery Prize and all previous prizes, badges and originals, will be available to the 20.00 and above pledge levels instead of the 25.00 levels.
If we hit 5,500 I have a cute sticker set of adorable cats that I will include in every pledge level 20.00 and up.
Should I some how hit 6,000 I will draw a new comic, about 5-6 pages, staring some adorable cat-like animals and send it as a PDF to everyone that pledges. I assure you it will be weird. =D
You guys are awesome!
Without further ado here is the Blooper Reel! Watch me make odd faces, sigh expressively, and roll my eyes. http://www.kickstarter.com/projects/1048372333/mystery-pets-art-book/posts/212530